Everything You Need to
Win on Instagram

Proven
Results
Step-by-step lessons
Up to date strategies
Premade templates
Expert Q&A

Work Smarter,
Not Harder
Customized lessons to fit your needs
In-depth trainings
Advanced-topic Live Trainings

Expert
Advice
Weekly trending audios & new feature updates
Expert coaches with over 1 Million followers
Direct advice from Instagram Staff
Customized trainings
for success on Instagram
WHAT'S OUT
Copying others
Stressing over posts
Missing updates
Low engagement
Imposter syndrome

WHAT'S IN
Sustained growth
Consistent engagement
Staying up-to-date
Saving time
Connecting with a supportive community
Let us figure it out
So you can stop wasting time on social
and start seeing results!

WHAT'S INSIDE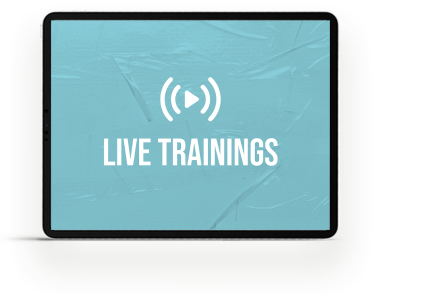 Real-time trainings of what's WORKING NOW
Expert Q&A
Algorithm and trend UPDATES
Held ONCE PER MONTH (always recorded)
We do the IG RESEARCH for you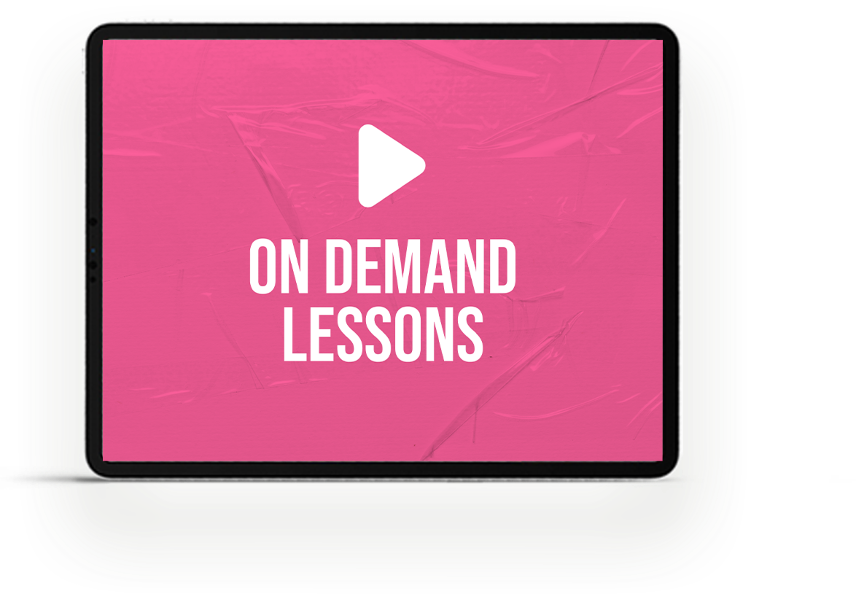 STRATEGY FOR ALL LEVELS: beginners to advanced
Personalized LESSON PLAYLIST made just for you
BITE SIZE VIDEOS to get you only what you need
Tips and strategies that DRIVE RESULTS within days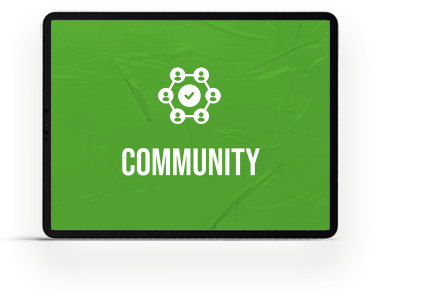 COLLABORATE with people in your industry
Meet ACCOUNTABILITY partners
Get SUPPORT from a community of Instapreneurs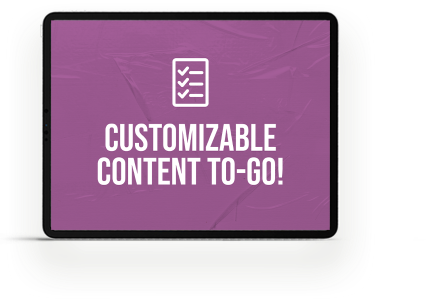 DONE-FOR-YOU content ideas from our IG expert team
New CONTENT IDEAS added weekly
Complete calendars to help you GET ORGANIZED
Professional, CUSTOMIZABLE templates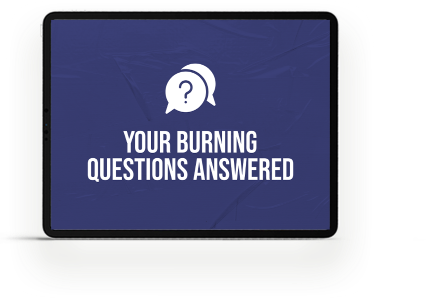 Get answers direct from the InstaClubHub team on LIVE CALLS
Sophisticated search functions for QUICK ANSWERS
Quick and responsive CUSTOMER CONCIERGE team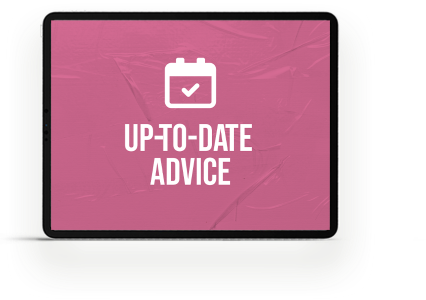 NEVER OUTDATED – we audit lessons monthly
We tell you "WHAT'S HOT THIS WEEK?"
TRENDING AUDIOS delivered every week
Mother-and-son team Chalene and Brock Johnson are each Instagram experts in their own right.
They co-founded InstaClubHub in 2020 and have already helped over 30,000 people master Instagram marketing.
They have a unique ability to break down complex marketing tactics into actionable, impactful steps that ANYONE can apply and follow to see results.
Chalene johnson
Brock johnson
Actionable Instagram tips
to grow your business – starting NOW!
ANNUAL
$663 $299/year
Special BONUS:

Professional FREE Review of Your IG Account
LIMITED TIME annual discount
Monthly LIVE Trainings
Nearly 100 template ideas
On demand lessons
Community forum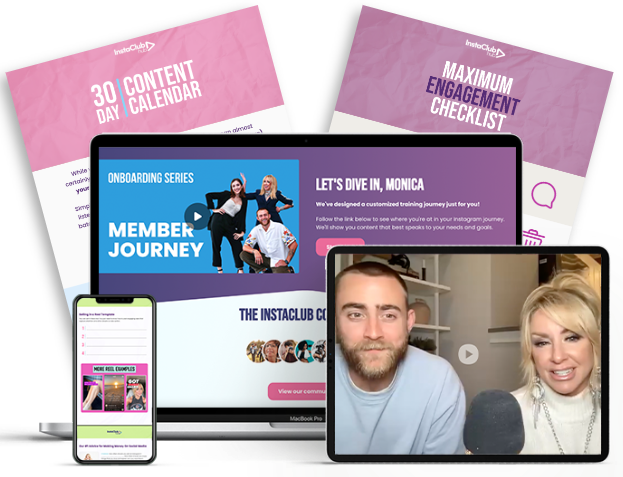 JOIN THE CLUB AND GET
INSTANT ACCESS TO:
All of our on-demand trainings.
A community of Instapreneurs to connect with.
Deep-dive live events once per month.
Easy to use search function to get immediate answers to all your questions.
Step-by-Step templates to remove the guesswork.
Your personalized progress roadmap.
Actionable tips that you can implement right away.
Frequently Asked Questions
I'm trying to spend less time on social media! How much time will this take?
Almost all of our lessons are less than five minutes long. So you can watch one lesson and immediately hop out to implement what you've learned.
Of course, you can binge an entire playlist – but ICH was designed so you can get you in, get you out, and then start crushing on Instagram!
After taking a quick assessment, you'll be placed on a customized Success Path so you know exactly what to learn. Plus our amazing search features will help you find all the answers to your questions in just seconds.
Does this work for physical products?
Short answer, YES! We have helped businesses grow in almost every single industry. Our lessons can be applied to physical products, service-based businesses, coaches, influencers… you name it!
Will this help me make more money?
We can't guarantee any kind of financial promises, but we do know this. Thousands of people have already used ICH to grow their Instagram, reach the right customer, and dramatically increase their business.
If you're willing to do the work, we are here to teach you everything we know about building thriving businesses using social media.
Will this work if I have a small following?
We've helped people who started with only a few dozen followers grow to tens of thousands! With the right guidance, anyone can grow their account (without using cringy tactics or fake followers).
What if I'm brand new to instagram?
Then you are in the right place. If you are a beginner, then we will start you at the very beginning. We will show you all the account basics, setups, and explain terminology. You will never be overwhelmed with advanced techniques because your success path is customized JUST FOR YOU!
Once you feel comfortable using Instagram, you'll move to the next level! This allows you to take action and not get stuck learning!