Get a sneak peek inside InstaClubHub
We're giving you an exclusive look at the welcome training for our members. Enjoy a behind the scenes look at what you can expect in ICH
Join InstaClubHub for Just $7!
Convert More Followers into Paying Customers and Build Your Business on Instagram® (All In Just 5 Minutes a Day!)
Everything You Need to Grow and Sell on Instagram™
Monthly Live Trainings
Deep dive on the latest Instagram

™

tips that WORK
Held twice a month
On-Demand Trainings
Covers everything you need to know to get up and running FAST
Choose a niche, create your first Story or Reel and more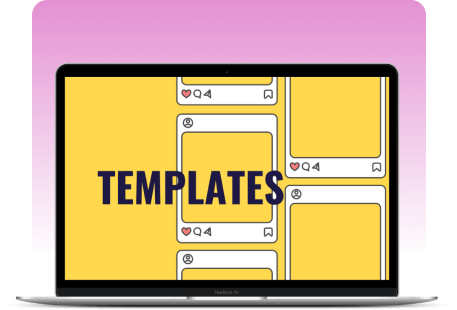 Attention-Getting Templates
Beautiful, engaging designs for Reels, Stories and more
Just add text for instant WOW
TONS of Content Freebies
Complete calendars full of done-for-you content ideas
New content ideas added monthly
Q & A Forum
A friendly, supportive community of Instapreneurs
Get answers direct from the InstaClubHub team
Amazing Rewards Program
Earn a free month for every person you refer who becomes a member
No limit to the number of free months you can earn
What Past Students Have Said...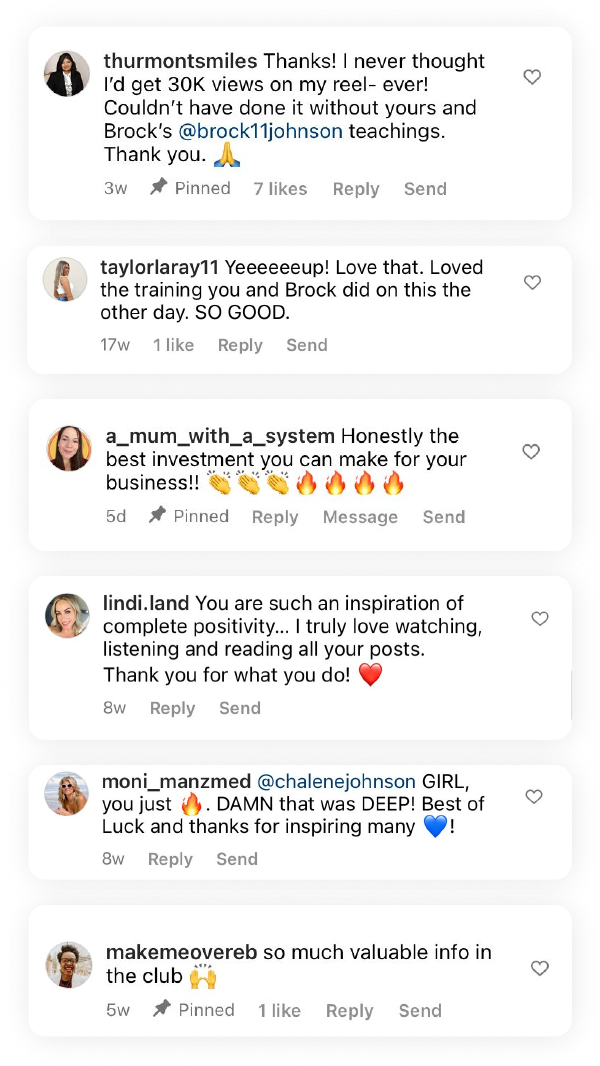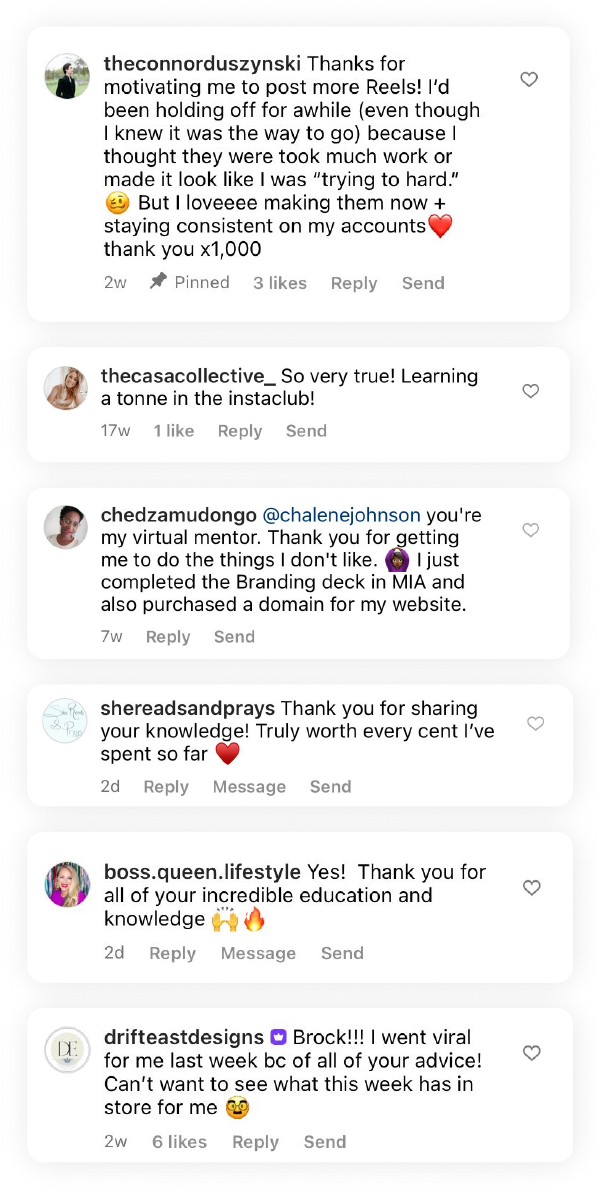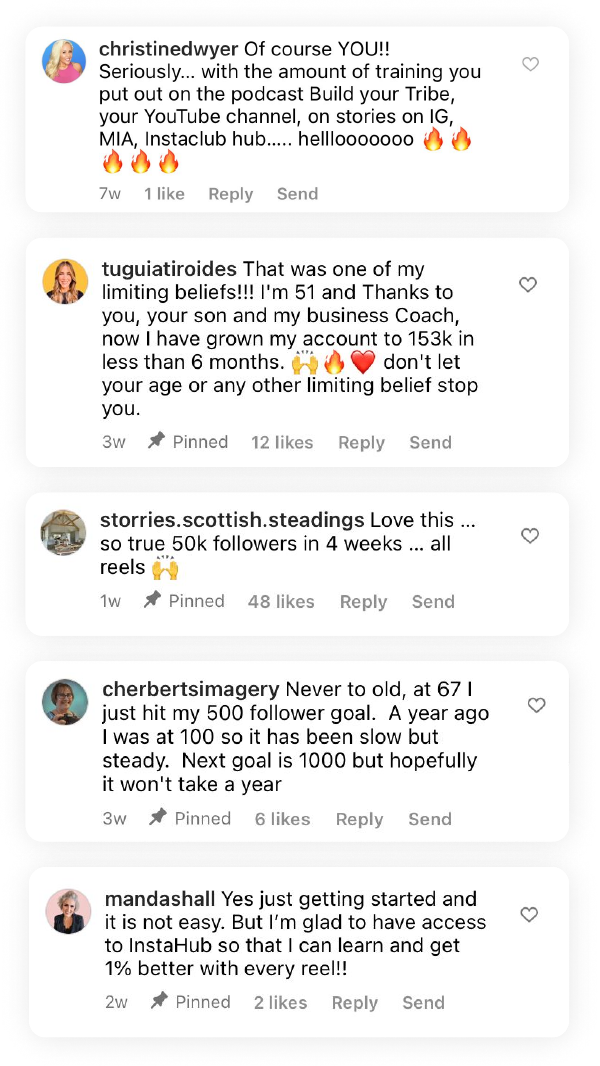 Subscribing is as Easy as 1, 2, 3!
Subscribe for just $7 and get instant access to the tools you need to grow.
You'll get access to our Baseline Trainings — a series of 5 step-by-step, easy-to-follow guides that walk you through everything from common Instagram terminology and choosing a niche, to selling on Instagram (plus so much more), like templates, Q&A forum, and access live trainings.
Level up your IG marketing skills & save tons of time.
From setting up your account to connecting with real, authentic followers who are genuinely interested in what you have to say and share, we'll help you master all of the skills you need to market on Instagram™ like a boss.
Grow your business on Instagram™ like a Pro.
Making money on Instagram™ isn't hard. You just need a road map to cut through all the B.S. and give you the real stuff that works. Our $7 Flash Sale helps you get started FAST.
Join Today and get 3 Incredible Bonuses!
BONUS #1: 30-Day Content Calendar
Your very own 30 Day (binge-worthy) Content Calendar. Stop struggling with what (and when) to post. Our 30 Day Content Calendar takes the guesswork out of your posting routine. In combination with the IG story ideas, you'll be set with content.
BONUS #2: 50 IG Story Ideas
50 of our hottest Story ideas. This plug and play template is designed to keep your followers engaged and coming back for more. That's what we all want, isn't it? Just download and start posting. It's that easy.
BONUS #3: 10 Reels Templates
Reels are HOT and Instagram is constantly promoting them! Make YOUR Reels stand out with these fun, interesting and unique templates!
Listen to our members share their Instagram success stories in their own words!
Gained over 10k followers in less than 30 days!!
Cherise Allison
Wellness Coach
Best Tips & Tricks to serve you niche
Shemo Elsayed

I got 200 followers after doing the Reels Challenge. Not bad for an account starting with less than 1,000 followers!
Tripled their sales and gained almost 10k followers!!
200 new followers in only 2 days!
From 5k to 35k followers in 3 months just by following the steps in InstaClub!
Save time and MAKE MONEY!
My account reach increased by 148%, and my engagement by 220%!
Under 1k followers to 6k in ONLY 4 weeks!
Get to know Chalene and Brock
InstaClubHub is the #1 online resource for entrepreneurs who want to grow their brand with targeted followers that convert to real customers.
Founded by Chalene Johnson, a New York Times Bestselling Author, lifestyle and business expert, motivational speaker, and host of two top ranked podcasts: The Chalene Show and Build Your Tribe.
With a passion for helping others and creating connections, Brock began his journey as an entrepreneur, quickly growing into a Top 100 Podcaster and amassing a huge following on TikTok and Instagram®. Today, as the co-host of the Build Your Tribe podcast and instructor of multiple online courses, Brock, together with his mother Chalene, helps entrepreneurs grow their following on Instagram® using a unique blend of storytelling and built-in tools like Stories, Reels™, Carousels, and Niche marketing.
You can go from frustrated and failing to growing with ease
Start your Trial and get instant access to:
How to make money with Instagram
Time-saving IG Templates
Trending Audios
Live Interactive Trainings
How to find your niche
"How to tutorials" for all Instagram features
How to sell on Stories
Latest IG strategies (updated weekly)
How to sell with Reels
How to find targeted followers
How to use Hashtags
Live bio reviews 2x monthly
What to post for viral views
How to Boost Engagement
What to do about bots and fake followers
How to bring your IG back to life
How to crush it with Reels
How to Set up your Bio